When I learned my best friend from HS was getting married I could not be happier for him. I knew how much he was in love with his wife to be and I knew 11 years of friendship could not be represented by a gift from his registry or a check. I decided I wanted to make him something nice for them to start their new life together.
Since his Jewish faith is very important to him I started looking for a traditional prayer shawl or tallit pattern to knit him. After doing some poking around on the internet, I realized these patterns don't really exist. It would have been simple enough to make one up as these are basically scarves. But then I found an article that a tallit should only be given to a man by his family or by his wife and in some traditional circles it is quite scandalous for a single woman to give a married man a tallit as a gift. Not that my friend would have said anything or cared but I was back to the drawing board.
I headed back to Google with a more abstract search of "Jewish knitting patterns" and I learned of something called the Chuppah. Apparently in Jewish tradition the bridal ceremony is conducted under a canopy called a Chuppah. I found a "Lace Chuppah" pattern by Kat Coyle in the Interweave store. I wasn't so presumptuous to think that it would be used in the wedding so I planned to make my version as more of a throw blanket that could be used by the newly married couple on a regular basis.
Now that I had my pattern, the search for the right yarn began. As much as I love knit picks yarns, the fact that they only make 100 gram balls for most of their yarns eliminated them from consideration for this project. When I made my Mother's day gift earlier this year I was worried it would take more than one ball of yarn to cast off and that project was only about half the size of this one. Also, most of the Knit Picks yarns that were available at the time were also too small of a gauge to consider. Due to the size of this project, I knew I couldn't afford some of the crazier hand dyed or premium blend yarns. Finally I hoped that the couple would use this regularly which meant I wanted something washable.
In considering heavier weight, reasonably priced, machine washable I ended up on the Caron web site. One of my knitting friends had done a few projects with their Naturally Caron "Country" yarn. I ordered 1 ball each of 3 different colors a silver, a "party white" (which had some shimmer to it) and an off white (which appears to no longer be stocked). When my "samples" came I realized the silver was really a grey and too "down" of  a color for a wedding blanket, the party white looked more appropriate for a baby blanket but the cream would match his chocolate leather couches quite nicely. So I went back to the pattern and realized if I wanted to leave the fringe off I'd need at least 10 balls of yarn, possibly more since the yarn I was using was still not as big as the yarn used in the pattern and I ordered an additional 14 more balls of the cream yarn to have 15 skeins total. 2 months into my research I was ready to start the project.
I knew I was going to knit this on my Knit Picks interchangeable needle set, but I wanted to get as close to the correct needle size as possible. The pattern called for size 13 needles, the yarn called for size 9.  I cast on 20 stitches and worked them with the size 9, size 10, size 10.5 and size 11 needles in my set to see how the stitches looked for each. The stitches on size 11 were entirely too open for my liking so I started the pattern with with the 10.5 needles which had a nice open stitch to them.
The Chuppah pattern came with two "funnel" charts as I call them. Since it's knitted in the round, you cast on all 4 sides and repeat each "funnel" 4 times to make a square. Since I knew my gauge was off, and I knew my cables weren't long enough for me to see how long the sides would be, I realized I was going to have to do some math. My knitting friends laugh at how much math I do for my patterns but in this case math was the only way, specifically the Pythagorean theorem (you remember a²+b²=c²). Since there's a line of garter stitches that borders each panel I realized those were two sides of the an equilateral triangle. I laid my work flat and measured the line. When It was 30 inches I knew that 30² + 30² = x² where x was the length of one side or 42.4 inches.

After I finished the first funnel chart, the pattern says if you'd like to make the Chuppah larger to "add repeats" when doing the second pattern. The pattern did not tell you what that meant but I realized that each set of lines outlined by the red box could be repeated. I repeated the first "leaf" box on the second chart but I had concerns about repeating every box because I did not know how far off my gauge was and I did not want to run out of yarn or make a GIANT blanket. So I completed the rest of the chart as it was.
When I was done with chart 2, my Chuppah blanket was only about 52 inches. I decided I wanted to start chart 2 over again, but in order to do so I had to figure out how to make the end of chart 2 line up with the beginning. I photocopied the page for chart 2. I knew the chart both began and ended with a leaf pattern so I figured my best bet was to line up the end of the leaf with the beginning of the next diamond row. I folded the first copy down as small as possible and lined the two patterns up. Then realized I would have 2 extra stitches on either side of the pattern. This was easily resolved by eliminating a decrease on each side (see image below). Once this was sorted, I knitted through chart 2 for a second time.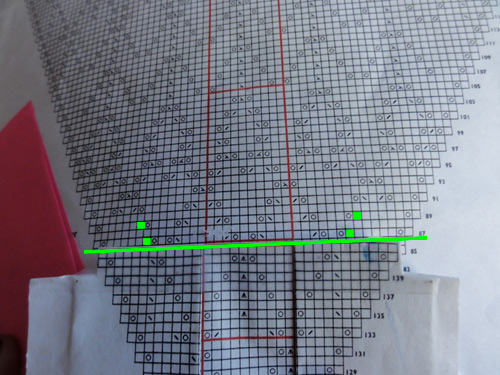 Next up was finishing the blanket. I don't like fringe and I'm also entirely too much of a perfectionist to attempt it (I also doubt I had enough yarn at that point). After I was finished with the pattern, I worked 4 more rows as knit (with the same yarn overs in the corner as the pattern had) and cast off in the traditional knit bind off. This gave the blanket edges a slight curl but also protected the delicate lace holes from being on the edges. After tucking in entirely too many ends I was finally done!
This Chuppah blanket was the culmination of 2 months of research and I estimate 200+ hours of knitting and 13.5 balls of Naturally Caron Country yarn. It looks gorgeous, it drapes beautifully and I am quite proud of the final product. The only thing left was the wedding itself which was amazing. The newlyweds tell me they love their gift and I hope they continue to use it in good health. Mazel Tov!